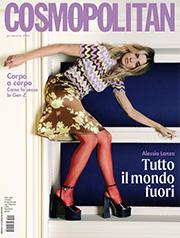 www.cosmopolitan.it
Cosmopolitan Digital
#YOUDOYOU
With Cosmopolitan you are the protagonist, it's your inspiration to conquer your part of the world.
Funny in its style, fearless in its choices and super feminine.
Love, beauty, fashion, relationships and work.
The world's most sold women's magazine that talks to you as no other does.

Subscribe here to read your favorite magazine comfortably in tablet or smartphone, anywhere, anytime, even offline! AVAILABLE FOR APPLE DEVICES (iPad AND iPhone) AND ANDROID DEVICES (TABLET AND SMARTPHONE).
Subscription term: 1 year offer
Only: € 26,40
---
Subscription term: 6 months
Only: € 5,99
---
Subscription term: 3 months
Only: € 4,49