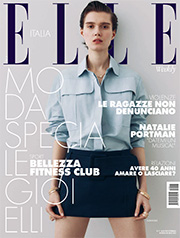 http://www.elle.it
Elle Digital
Best reading in time of fashion.
The latest trends. Inquiries from a feminine point of view. Lifestyle and current events. Health and beauty. Travel destinations. And then cinema, music, arts, books, events. The fresh and unique style of the world's best selling women's magazine.

Subscribe here to read your favorite magazine comfortably in tablet or smartphone, anywhere, anytime, even offline! AVAILABLE FOR APPLE DEVICES (iPad AND iPhone) AND ANDROID DEVICES (TABLET AND SMARTPHONE).
Subscription term: 1 year offer
Only: € 34,99
---
Subscription term: 6 months
Only: € 19,99
---
Subscription term: 3 months
Only: € 9,99
---
Subscription term: 1 month
Only: € 4,99