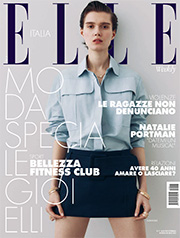 http://www.elle.it
Elle
Best reading in time of fashion.
The latest trends. Inquiries from a feminine point of view. Lifestyle and current events. Health and beauty. Travel destinations. And then cinema, music, arts, books, events. The fresh and unique style of the world's best selling women's magazine.
Subscription term: 1 year offer
Digital edition included
Only: € 65,00
Shipping costs info:
First Class
Europe:

€ 28,00

USA/Canada:

€ 41,30

Anywhere else:

€ 57,00
Economy
Europe:

€ 18,00

USA/Canada:

€ 20,70

Anywhere else:

€ 25,80
You will be able to choose the shipment method during the checkout process.